Learn the Art of Modern Calligraphy

If you have been wanting to learn modern calligraphy but have no idea how or where to begin, this course is for you! This course will walk you step-by-step through the process of learning everything you need to know. You may start as a beginner with no experience, but you will finish the course as a confident calligrapher ready to add your pretty lettering to everything in sight!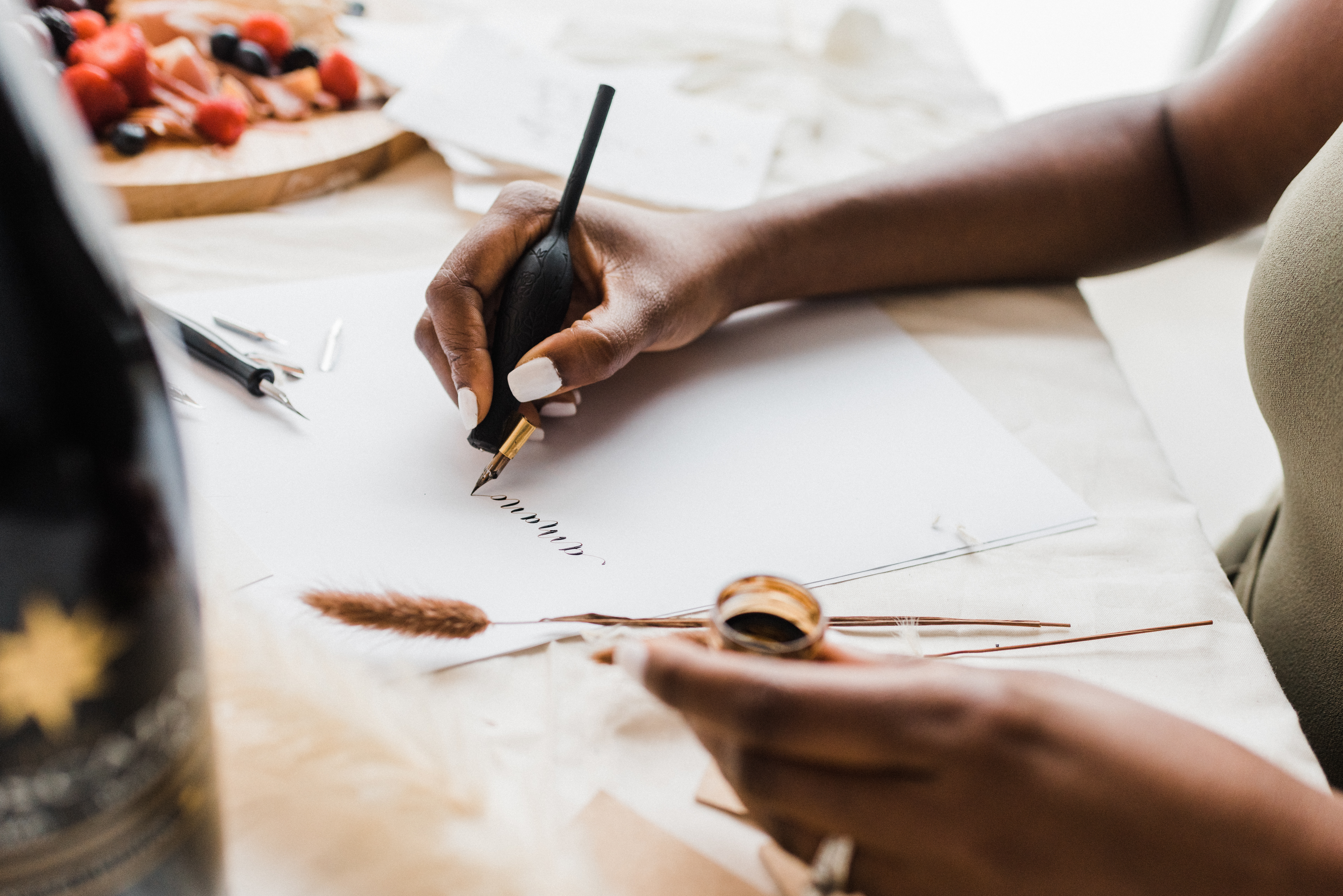 Start
as a
beginner
with 
no experience...
...Finish
as a 
confident calligrapher
 ready to add your pretty lettering to everything in sight!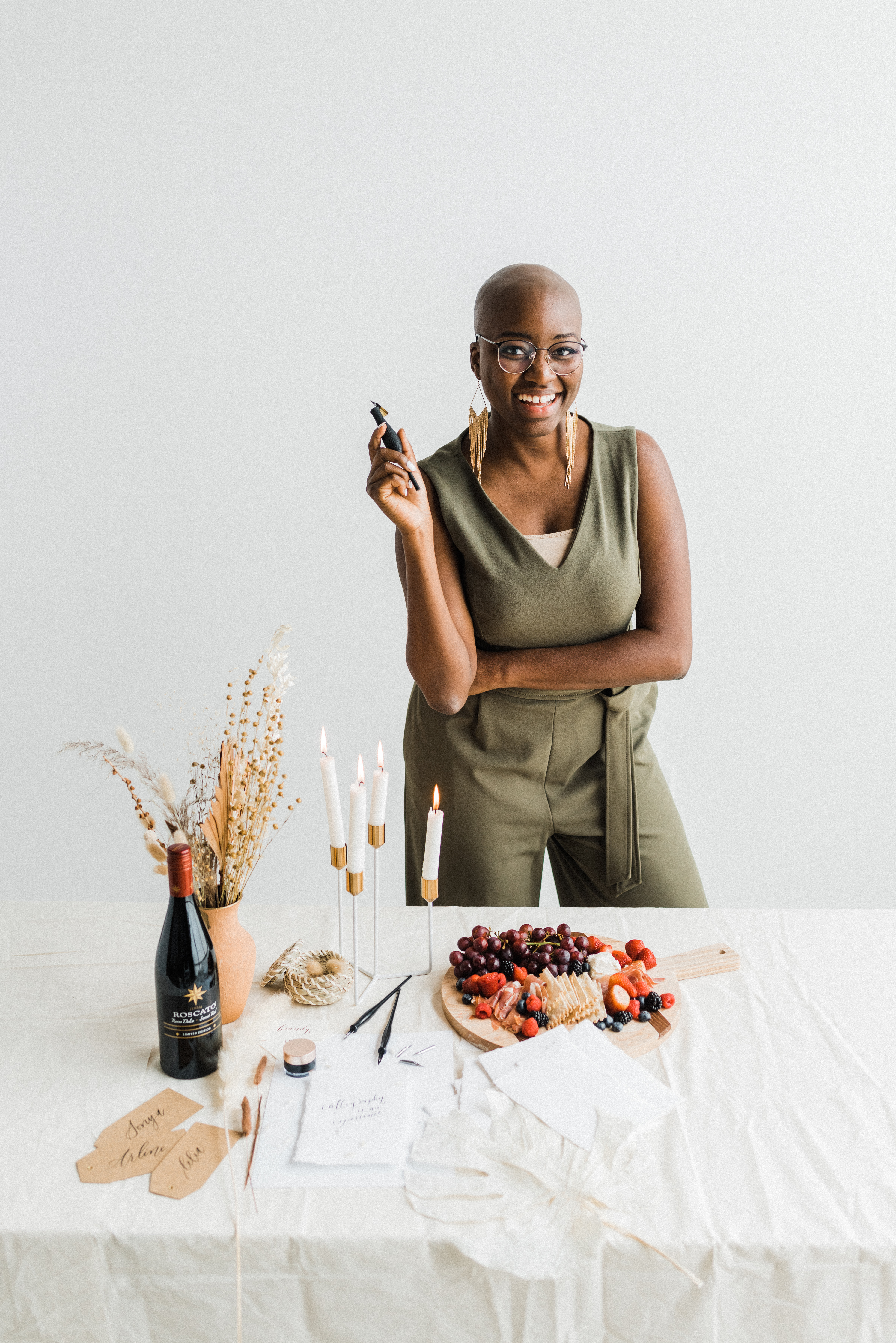 Meet Your Instructor: Amanda Reid
Amanda Reid is a modern calligrapher, workshop instructor and Doctor of Physical Therapy. She is the owner of Amanda Reid Designs, a modern calligraphy studio based in Austin, TX that specializes in providing calligraphy and engraving services for events and brands. Amanda also shares her passion for calligraphy with others by hosting fun, interactive workshops to teach aspiring letterers how to use brush pens and/or dip pen and ink. Amanda is also the founder of Calligraphers of Color, an inclusive online community that provides resources for and highlights minority calligraphers and their businesses.
Amanda has taught hundreds of students the art of calligraphy through in-peron and virtual workshops. She has also had the honor to use her calligraphy to work with top brands such as Louis Vuitton, Tiffany & Co, Jo Malone London, Google, Hermes, Kendra Scott, Anthropologie, University of Texas at Austin, Nordstrom, and more!



Does this sound like you?
I want to learn calligraphy but I'm overwhelmed with where to start.
What supplies do I need? There are so many options!
I tried calligraphy and watched youtube videos before but mine still doesn't look right.
I could never be good at calligraphy
But I have bad handwriting...
I really want to try a new hobby
TRUST ME, I'VE BEEN THERE! AND I WANT TO HELP!
When I first started out, I knew I needed a creative outlet and a unique way to express myself. I was determined to learn how to add calligraphy to envelopes, placecards, gift tags, planner, journaling...really anything I could get my hands on. I had always seen calligraphy and really wanted to learn to make it my own.
After taking multiple classes, workshops, courses, reading books, and YEARS of practice, I was able to get to a place that allowed me to start my own business, teach hundreds of students over the past few years, and work with some of the biggest brands! Now I want to share everything I've learned with you in this online course so you can go from an aspiring, beginner calligrapher to a confident one.
BY THE END OF THIS COURSE YOU WILL know all the supplies you need to get started, know how to use and hold a calligraphy pen, learn the fundamental basic strokes, lowercase alphabet, uppercase alphabet, learn how to connect letters into words, learn 3 different easy projects, and more.
This course is for you if:
You want to learn how to create beautiful modern calligraphy, but you aren't sure where to begin.
You don't have any experience with calligraphy or lettering, but you're excited to learn!
You're looking for a fun, creative outlet, potential sidehustle or a relaxing self-care practice.
WHAT'S INCLUDED IN THE COURSE:
10 Value Packed Modules with 30+ Video Tutorials
Whether you're an absolute beginner or have a good handle on the basics, this course takes you through every step of the way with 39 pre-recorded instructional videos, plus a bonus module with additional content.

Downloadable Course Workbook
45+ page PDF guide with supply recommendations, practice sheets, terminology, and a 30-day practice calendar.


Lifetime Access to Course
You'll have LIFETIME access to the course, so you can learn at your own pace and revisit as needed. Plus, you'll be able to Access to Any Future Course Updates!


Reviews from Past Workshop Students
"I have taken one of my first of many to come calligraphy classes! Amanda Reid was to say the least, AMAZING. I loved learning from her and the different styles she offers. Very patient with individuals and works with ALL skill levels. Throughout the class she would go over different sections of calligraphy, how it works and what makes it special! She works well with right and LEFT handed people! I recommend anyone to take Amanda Reid's class no matter what reason you have for wanting to join!"
-D.J.
"Amanda's class was fantastic, really well presented straight forward information and free from the pretentious tones that some calligraphy classes have. Highly recommend."
-C.K.
"Amanda is a great instructor and super friendly and engaging. I took 2 calligraphy classes over zoom and the way she organizes the class is great, starting with these simple steps that make moving into letters and words easy... I highly recommend her classes to anyone interested in calligraphy."
-K.S.
"I took Amanda's online modern calligraphy course. It was fantastic. Amanda is a gifted and encouraging teacher. I'm glad I purchased her class."
-C.M.

 Frequently Asked Questions

What if I have NO experience or have never done calligraphy before?
No problem! This course is perfect for total beginners, those who have dabbled, or anyone who wants to freshen up their skills.
What if I'm not very artistic or have bad handwriting?
Thankfully you do not need good handwriting to be a calligrapher and I explain why in the course. I'll walk with you step by step through everything you know, and you don't need any special artistic skills or perfect handwriting. If you are creative, that definitely helps, but anyone can take this course and end up with beautiful lettering.
How long do I have access to the course?
Lifetime access! After enrolling, you have unlimited access to this course for as long as you like - across any and all devices you own.
Does it come with supplies? What supplies do I need for the course?
Supplies are not included, but once enrolled you will be provided with a list of the exact supplies you need. There is an entire module that covers supplies and includes links and a curated resource list of where to purchase them from. We have also partnered with John Neal Booksellers to create a kit with everything you need for the course. CLICK HERE TO PURCHASE YOUR CALLIGRAPHY SUPPLY KIT.
How do I access the course?
Once you purchase the course, you will receive immediate access to view the course through Teachable. All of your videos, downloadable workbooks, and all content will be available to you through your teachable account. You will also be sent an email with a link to access the course.
When does the course start and finish? Are the sessions live or pre-recorded?
The course starts once you enroll! It is a completely self-paced online course - you decide when you start and when you finish. The lessons are pre-recorded so you can re-watch as many times as you need.
How much does it cost? Why is it expensive?
The full price of the course is $125, or can be broken into 2 monthly payments of $75. The course is jam-packed full of information that I have learned over the years in an easy to learn format. This course saves you time from scouring over the internet for information, by including everything you need to know in one place. Compared to other courses, this is very affordable for the value you are receiving! Totally worth it!
Are the handouts included?
Yes! There are downloadable handouts that you will have access to that includes practice worksheets, guides, resource pages, and information for you to be successful in your calligraphy journey.
Can I take this course with brush pens or do I need dip pen and ink?
This course is intended to be taken with dip pen and ink. Some of the principles that are taught can be applied to brush lettering, but the course is designed to teach pointed pen modern calligraphy.
How much support will we receive from you?
Once enrolled, you will be able to leave comments under the videos you have questions for the instructor to respond to. You can also always email me at [email protected]! There will also be occasional live sessions with demo & Q&A.
If I have a question who do I contact?
If you have any questions after reviewing the FAQ and available content, please reach out to [email protected] for support.




30 DAY REFUND POLICY

Don't love the course? We offer full refunds within 30 days. But with a  100% 5 star review satisfaction rating on past classes, we are confident you WILL love it!